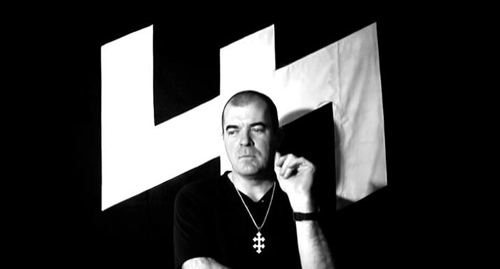 Ein Filmklub ist eine Vereinigung, die die Vorführung von Filmen ohne kommerzielle Absichten organisiert.
Der Filmklub zeigt zwei Filmwerke in Zusammenhang mit Boyd Rice, einem der umstrittensten Künstler der Gegenwart - Dadaist, Satanist, und Prankster, Erfinder der Industrial Music, erklärter Fan von Alexandra und Heidi Brühl und Cocktail Connaisseur.
DAUGHTER OF HORROR, ein Z-Movie von 1955, ist einer der Lieblingsfilme von Boyd, ein dialogloser surrealer Alptraum im Gewand eines Film Noir, wie ihn sich André Breton und Mickey Spillane nicht besser zusammen hätten ausdenken können.
PEARLS BEFORE SWINE wiederum ist ein provokantes B-Movie um Verschwörungen, Militas und Maschinengewehre, bei welchem sich Regisseur Richard Wolstencroft nicht nur vom Werk Rices inspirieren liess, sondern ihn auch für die Hauptrolle gewinnen konnte.
Davor und danach spielt sdfkt. Musik und Lieblingsmusik von Boyd Rice.
Wir freuen uns drauf.
21 Uhr - Daughter of Horror (John Parker, 1955)
22 Uhr - Pearls Before Swine (Richard Wolstencroft, 1999)
Dies ist eine private Veranstaltung für Freunde und Bekannte und der Eintritt ist natürlich frei.
Ort: Frappant Hamburg